clipped from
www.huffingtonpost.com
---
In a new book, former Secretary of Homeland Security Tom Ridge reveals new details on politicization under President Bush, reports US News & World Report's Paul Bedard. Among other things, Ridge admits that he was pressured to raise the terror alert to help Bush win re-election in 2004.
---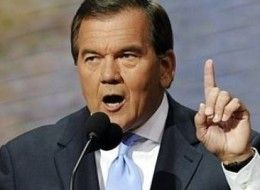 ---
Ridge was never invited to sit in on National Security Council meetings; was "blindsided" by the FBI in morning Oval Office meetings because the agency withheld critical information from him; found his urgings to block Michael Brown from being named head of the emergency agency blamed for the Hurricane Katrina disaster ignored; and was pushed to raise the security alert on the eve of President Bush's re-election, something he saw as politically motivated and worth resigning over.
---
"What Tom Ridge disclosed confirms our worst suspicions," said Sen. Lautenberg (D-N.J.), who criticized the color-coded system back in 2003. "Just like they did in Iraq, the Bush Administration manipulated intelligence to cause fear in the public to further its political goals."
---